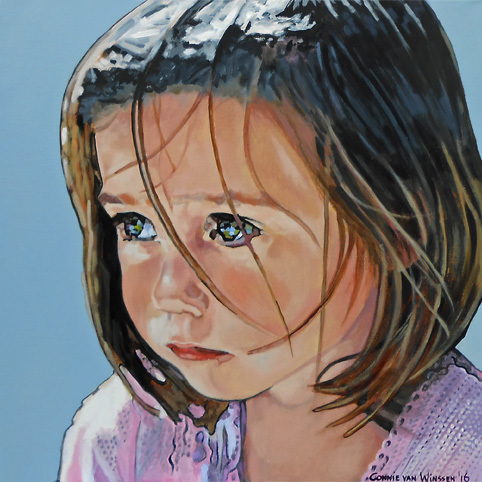 Artists Statement
Connie van Winssen gets inspired by organic forms.
Composition, colours and contrasts are more important than the subject itself.
She abstracts by means of cropping, colour changes and the removal of/ or emphasis on certain aspects.
The pleasure of painting always comes first.
Powerful, expressive and knowingly accessible work is the result.
RESUME
EDUCATION
1990-1995 De Nieuwe Academie te Utrecht
EXHIBITIONS
Numerous shows in The Netherlands and abroad
BIOGRAPHY

Connie was born in 1957 in Westbroek, a little village near Utrecht, where she lived until 2018. Then she moved to Scherpenzeel where she bought a house with a store with the intention to start a gallery there. It is a 3 year project. After 2 years the ground floor is done. Her gallery started in September 2020.
She's married and has 4 children. She started to paint portraits in oil in 1980. From 1990-1995 she studied at 'The New Academy' in Utrecht. There she fell in love with acrylics.
Her work is kept in collections in The Netherlands, Belgium, Germany, France, Poland, Ireland, Canada, Saudi Arabie, New York, New Zealand, Florida, Wisconsin and North Carolina
Also look at www.connievanwinssen.nl